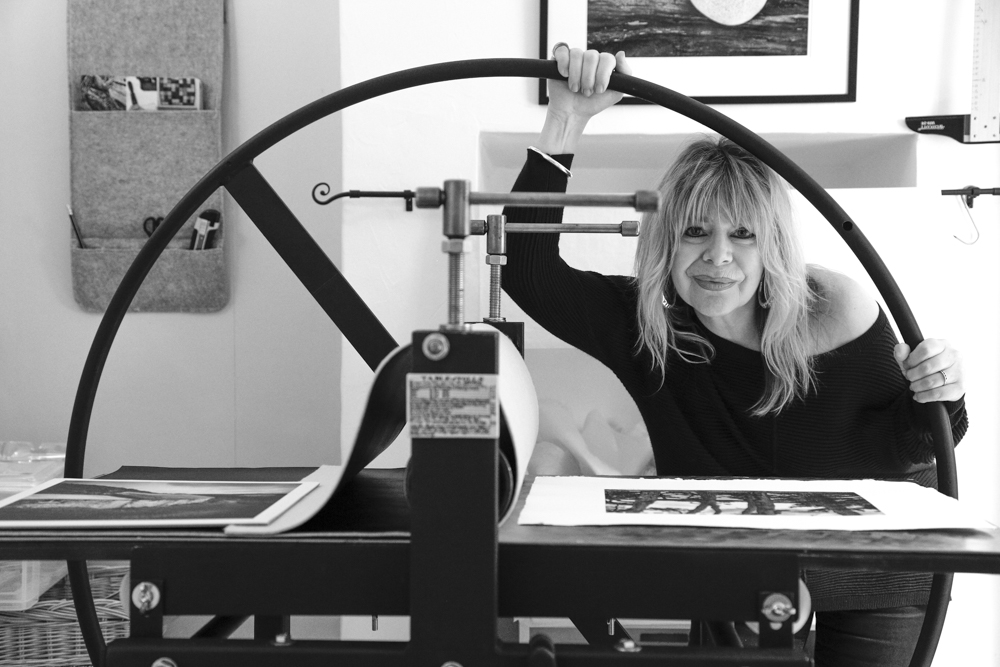 with Gunning Etching Press
Photography has always been part of my life since my first camera, a box brownie at the age of seven. Photography with film enabled me to be a creative and express myself as an photographic artist in my darkroom, through to the present day digital age. I eventually became an Associate of The Royal Photographic Society in 2011.
My journey as a specialised printmaker started at the inspirational John Howard Print Studios in Penryn where I create my photopolymer etching plates from my photographic images which are captured onto metal UV light sensitive plates then developed, dried and eventually cured by the sun, inked up with oil based inks and printed by pressure as a conventional intaglio print using traditional printmaking skills on my Gunning Etching Press, producing small runs of fine art edition prints.
The desire to do this grew out of the evolution of the digital age, I was tired of the growth of throwaway images and needed to get back to a more of a time honoured way of presenting my images. It is a slow but meditative process creating an impression of an image, rather than an exact representation of how a place looks but, also to how it feels. Each fine-art print being quite unique and archival, taking on a warmth and beauty that is not present in any other photographic process.
As a photographer & printmaker living in West Cornwall much of my inspiration is taken from the wild Celtic landscape that I have loved and lived in for most of my life. The coast, the sea and the moors, isolated places attract me the most where I can study and capture our natural world.
I also practice other alternative photographic print-making processes, Venetian Monotype which I learnt whilst in Venice, a type of paper plate lithography that is a very slow process producing one-off monotype prints. And the Cyanotype process which originated in the 1840's being one of the first non-silver technologies used to create photographic cyan blue prints, which I now delight in printing with photograms and my own photographic images using our very own Cornish sunshine.
I am a member of Lizard Art Co-operative situated in Lizard Art Stableyard Gallery, Trelowarren Estate, Mawgan-in-Meneage, Helston, Cornwall TR12 6AF
I am also represented by the photographic agencies ARCANGEL, ALAMY, SAATCHI ART